Queen Elizabeth
The new 92,000-ton liner, to be named 'Queen Elizabeth' is scheduled to enter service in the autumn of 2010. Cunard signed an agreement with Italian shipbuilder Fincantieri for the construction of the new 2092-passenger ocean liner, which was built in the Monfalcone yard at an all-in cost of approximately €500 million. The vessel will be the second largest Cunarder ever built. Queen Elizabeth offers the very best of Cunard's values and traditions, blended with every conceivable modern luxury that you, our guests, expect. Through her opulent public rooms and impeccable service, the new ship will reflect the grandeur which has been associated with Cunard ships since the introduction of the Mauretania in 1907; and from the outside, her black hull, gleaming white superstructure and distinctive red funnel will echo the classic characteristics of the company's distinctive liner heritage. Queen Elizabeth will fly the Red Ensign with her home-port Southampton, as is the case with the other ships in the Cunard fleet.
2013 Sailings | 2014 Sailings |
Queen Elizabeth
Queen Elizabeth, the newest Cunarder, joined the fleet in October 2010. She relives, in modern glamour, the high society events of the 1930s and 1940s. Grace ornate rooms whose rich décor recalls the heritage of the first Cunarder to bear her name. Images and features from her predecessors, Queen Elizabeth and QE2, sit comfortably alongside her modern charm.
Cabins
Balcony Cabin
At any time of the day your luxury stateroom, occupying up to 472 square feet, provides a welcome enclave of comfort and good taste. Wrap yourself in the soft bathrobe, ease into your slippers, then settle down to a film on your TV or watch the world go by from your own balcony. Guests dine at a reserved table for either early or late dining in the Britannia Restaurant. Complimentary 24-hour room service Half bottle of sparkling wine at embarkation Interactive TV with multi language film and music channels Direct-Dial telephone Refrigerator, safe and hair dryer Bath robe & slippers Nightly turndown service with pillow chocolate Daily shipboard newspaper Daily fresh fruit (on request) 220V 3-pin and 110V 2-pin Sockets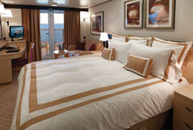 ---
Balcony Cabin (Obstructed View)
At any time of the day your luxury stateroom, occupying up to 472 square feet, provides a welcome enclave of comfort and good taste. Wrap yourself in the soft bathrobe, ease into your slippers, then settle down to a film on your TV or watch the world go by from your own balcony. Guests dine at a reserved table for either early or late dining in the Britannia Restaurant. Complimentary 24-hour room service Half bottle of sparkling wine at embarkation Interactive TV with multi language film and music channels Direct-Dial telephone Refrigerator, safe and hair dryer Bath robe & slippers Nightly turndown service with pillow chocolate Daily shipboard newspaper Daily fresh fruit (on request) 220V 3-pin and 110V 2-pin Sockets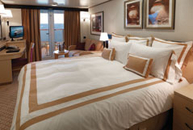 ---
Club Balcony
For something just a little more special, choose our exclusive Britannia Club accommodation. Guests dine on special a la carte specialties with a select few fellow guests in the intimate single-seating Britannia Club restaurant. And, they enjoy luxury balcony accommodation with additional lovely details to make an extraodinary stay even better. Britannia Club Balconies are glass-fronted. 24-hour room service Interactive TV with multi-language film and music channels Direct-Dial telephone & data port outlet Refrigerator, safe, hair dryer Bathrobe & slippers Nightly turndown service with pillow chocolates Daily shipboard newspaper 220V British 3-pin and 110V 2-pin sockets Bon Voyage Bottle of Wine Single Seating Dining in the Britannia Club Pillow Concierge Menu
---
Oceanview
At any time of the day your luxury stateroom, occupying up to 472 square feet, provides a welcome enclave of comfort and good taste. Wrap yourself in the soft bathrobe, ease into your slippers, then settle down to a film on your TV. Our turndown service sets the tone for a comfortable night's sleep. Guests dine at a reserved table for either early or late dining in the Britannia Restaurant. Complimentary 24-hour room service Half bottle of sparkling wine at embarkation Interactive TV with multi language film and music channels Direct-Dial telephone Refrigerator, safe and hair dryer Bath robe & slippers Nightly turndown service with pillow chocolate Daily shipboard newspaper Daily fresh fruit (on request) 220V 3-pin and 110V 2-pin Sockets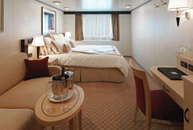 ---
Oceanview (Obstructed View)
At any time of the day your luxury stateroom, occupying up to 472 square feet, provides a welcome enclave of comfort and good taste. Wrap yourself in the soft bathrobe, ease into your slippers, then settle down to a film on your TV. Our turndown service sets the tone for a comfortable night's sleep. Guests dine at a reserved table for either early or late dining in the Britannia Restaurant. Complimentary 24-hour room service Half bottle of sparkling wine at embarkation Interactive TV with multi language film and music channels Direct-Dial telephone Refrigerator, safe and hair dryer Bath robe & slippers Nightly turndown service with pillow chocolate Daily shipboard newspaper Daily fresh fruit (on request) 220V 3-pin and 110V 2-pin Sockets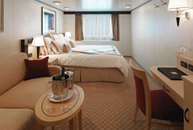 ---
Balcony Cabin - Partially Obstructed View
At any time of the day your luxury stateroom, occupying up to 472 square feet, provides a welcome enclave of comfort and good taste. Wrap yourself in the soft bathrobe, ease into your slippers, then settle down to a film on your TV or watch the world go by from your own balcony. Guests dine at a reserved table for either early or late dining in the Britannia Restaurant. Complimentary 24-hour room service Half bottle of sparkling wine at embarkation Interactive TV with multi language film and music channels Direct-Dial telephone Refrigerator, safe and hair dryer Bath robe & slippers Nightly turndown service with pillow chocolate Daily shipboard newspaper Daily fresh fruit (on request) 220V 3-pin and 110V 2-pin Sockets
---
Deluxe Inside
At any time of the day your luxury stateroom provides a welcome enclave of comfort and good taste. Wrap yourself in the soft bathrobe, ease into your slippers, then settle down to a film on your TV. Our turndown service sets the tone for a comfortable nights sleep. Guests dine at a reserved table for either early or late dining in the Britannia Restaurant. Complimentary 24-hour room service Half bottle of sparkling wine at embarkation Interactive TV with multi language film and music channels Direct-Dial telephone Refrigerator, safe and hair dryer Bath robe & slippers Nightly turndown service with pillow chocolate Daily shipboard newspaper Daily fresh fruit (on request) 220V 3-pin and 110V 2-pin Sockets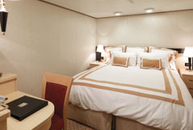 ---
Standard Inside
At any time of the day your luxury stateroom provides a welcome enclave of comfort and good taste. Wrap yourself in the soft bathrobe, ease into your slippers, then settle down to a film on your TV. Our turndown service sets the tone for a comfortable nights sleep. Guests dine at a reserved table for either early or late dining in the Britannia Restaurant. Complimentary 24-hour room service Half bottle of sparkling wine at embarkation Interactive TV with multi language film and music channels Direct-Dial telephone Refrigerator, safe and hair dryer Bath robe & slippers Nightly turndown service with pillow chocolate Daily shipboard newspaper Daily fresh fruit (on request) 220V 3-pin and 110V 2-pin Sockets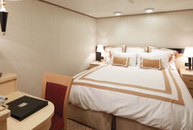 ---
Princess Suite
For guests in our Princess Suites, the delights of our Grills Experience are more pronounced than ever before. Catch the sea breeze on the Grills upper terrace reserved for the exclusive use of our Grill Guests, or relax in feather-soft terry robes on your own private balcony, charting your position in the atlas. Your luxury suite occupies up to 513 square feet, with flourishes that include personalised stationary, a Bon Voyage bottle of wine, fresh fruit and a concierge service - there's even a pillow concierge to ensure you sleep soundly. Guests dine at a reserved table in the single seating Princess Grill Restaurant. Complimentary 24-hour room service Interactive TV with multi language film and music channels Direct-Dial telephone Refrigerator, safe and hair dryer Soft Terry Robes & slippers Nightly turndown service with pillow chocolate Daily shipboard newspaper 220V 3-pin and 110V 2-pin Sockets Priority embarkation and luggage delivery Bon Voyage bottle of sparkling wine and strawberries on embarkation Concierge service Personalised stationery, atlas and books Daily fresh fruit Complimentary bottled water Access to Queens Grill Lounge Single-seating dining in the Princess Grill In-suite dining Pillow concierge (a selection of pillows and duvets to suit your preference)
---
Grand Suite
Queens Grill takes everything that is so wonderfully indulgent about our Grills Experience and raises it to exalted new heights. Luxuriate in your own secluded haven featuring marble bathrooms and whirlpool baths. An expansive private balcony commands impressive sea views, perfect for sipping champagne or curling up with one of the books on offer. Refrigerators are stocked to your preferences; your concierge or butler will gladly attend to your every whim. Guests dine at a reserved table in the single seating Queens Grill Restaurant. At approximately 1,375 - 1,493 square feet, these luxury Grand Suites feature a spacious living and dining area, bath with shower and balcony. Complimentary 24-hour room service Interactive TV with multi language film and music channels Direct-Dial telephone Refrigerator, safe and hair dryer Soft Terry Robes & slippers Nightly turndown service with pillow chocolate Daily shipboard newspaper 220V 3-pin and 110V 2-pin Sockets Priority embarkation and luggage delivery Pillow concierge (a selection of pillows and duvets to suit your preference) Daily fresh fruit Bon Voyage bottle of Champagne and strawberries on embarkation Butler and concierge service Personalised stationery, atlas and books Complimentary bottled water Access to Queens Grill Lounge and private deck area Single-seating dining in the Queens Grill In-suite dining Complimentary broadsheet newspaper Flower arrangement in stateroom Board games and computer games console Bar stocked with spirits, wines and soft drinks Priority disembarkation and tender service DVD player
---
Master Suite
Queens Grill takes everything that is so wonderfully indulgent about our Grills Experience and raises it to exhalted new heights. Luxuriate in your own secluded haven featuring marble bathrooms and whirlpool baths. An expansive private balcony commands impressive efect for sipping champagne or curling up with one of the books on offer. Refrigerators are stocked to your preferences; your concierge or butler will gladly attend to your every whim. Guests dine at a reserved table in the single seating Queens Grill Restaurant. Situated on Deck 7, these expansive Master Suites offer a living area, bathroom with bath and shower, and a balcony. Complimentary 24-hour room service Interactive TV with multi language film and music channels Direct-Dial telephone Refrigerator, safe and hair dryer Soft Terry Robes & slippers Nightly turndown service with pillow chocolate Daily shipboard newspaper 220V 3-pin and 110V 2-pin Sockets Priority embarkation and luggage delivery Pillow concierge (a selection of pillows and duvets to suit your preference) Daily fresh fruit Bon Voyage bottle of Champagne and strawberries on embarkation Butler and concierge service Personalised stationery, atlas and books Complimentary bottled water Access to Queens Grill Lounge and private deck area Single-seating dining in the Queens Grill In-suite dining Complimentary broadsheet newspaper Flower arrangement in stateroom Board games and computer games console Bar stocked with spirits, wines and soft drinks Priority disembarkation and tender service DVD player
---
Penthouse
Queens Grill takes everything that is so wonderfully indulgent about our Grills Experience and raises it to exalted new heights. Luxuriate in your own secluded haven featuring marble bathrooms and whirlpool baths. An expansive private balcony commands impressive sea views, perfect for sipping champagne or curling up with one of the books on offer. Refrigerators are stocked to your preferences; your concierge or butler will gladly attend to your every whim. Guests dine at a reserved table in the single seating Queens Grill Restaurant. Penthouse suites feature a living area, balcony and bathroom with bath and shower. Complimentary 24-hour room service Interactive TV with multi language film and music channels Direct-Dial telephone Refrigerator, safe and hair dryer Soft Terry Robes & slippers Nightly turndown service with pillow chocolate Daily shipboard newspaper 220V 3-pin and 110V 2-pin Sockets Priority embarkation and luggage delivery Pillow concierge (a selection of pillows and duvets to suit your preference) Daily fresh fruit Bon Voyage bottle of Champagne and strawberries on embarkation Butler and concierge service Personalised stationery, atlas and books Complimentary bottled water Access to Queens Grill Lounge and private deck area Single-seating dining in the Queens Grill In-suite dining Complimentary broadsheet newspaper Flower arrangement in stateroom Board games and computer games console Bar stocked with spirits, wines and soft drinks Priority disembarkation and tender service DVD player
---
Queen Suite
Queens Grill takes everything that is so wonderfully indulgent about our Grills Experience and raises it to exalted new heights. Luxuriate in your own secluded haven featuring marble bathrooms and whirlpool baths. An expansive private balcony commands impressive sea views, perfect for sipping champagne or curling up with one of the books on offer. Refrigerators are stocked to your preferences; your concierge or butler will gladly attend to your every whim. Guests dine at a reserved table in the single seating Queens Grill Restaurant. At approximately 508-771 square feet, these luxurious Queens Suites feature a spacious living area, balcony and bathroom with bath and shower. Complimentary 24-hour room service Interactive TV with multi language film and music channels Direct-Dial telephone Refrigerator, safe and hair dryer Soft Terry Robes & slippers Nightly turndown service with pillow chocolate Daily shipboard newspaper 220V 3-pin and 110V 2-pin Sockets Priority embarkation and luggage delivery Pillow concierge (a selection of pillows and duvets to suit your preference) Daily fresh fruit Bon Voyage bottle of Champagne and strawberries on embarkation Butler and concierge service Personalised stationery, atlas and books Complimentary bottled water Access to Queens Grill Lounge and private deck area Single-seating dining in the Queens Grill In-suite dining Complimentary broadsheet newspaper Flower arrangement in stateroom Board games and computer games console Bar stocked with spirits, wines and soft drinks
---
Facilities
Food and Drink
Asian Restaurant
Bar
Britannia Club
Britannia Restaurant
Cafe Carinthia
Churchill Lounge
Churchills Cigar Bar
Commodore Club
Connexions Bar
Dining Room
Empire Casino Bar
Golden Lion Pub
Grand Lounge
Grill
Grills Lounge
Grills Terrace
Lido Bar
Lido Casual Restaurant
Lido Grill
Mexican
Midships Lounge
Princess Grill
Queens Grill Lounge
Queens Room
The Courtyard
The Pavilion
The Verandah
White Glove Afternoon Tea Service
Yacht Club
Other
Art Gallery
BookShop
Boutique
Royal Arcade
Shops
Relaxation
Lido Pool
Massage
Royal Spa
Spa
Thermal Suite
Whirlpool
Entertainment
Admiral Club
All That Jazz
Ballroom
Casino
Dance Floor
Entertainment Team
Karaoke
Queens Room Ballroom
Royal Court Theatre
Theatre
Recreational
Fitness
Fitness Center
Fitness Room
Gym